You are hereBlogs / coleen rowley's blog
coleen rowley's blog
---
MEMORANDUM FOR: The President
FROM: Veteran Intelligence Professionals for Sanity (VIPS)
SUBJECT: War With Iran
We write to alert you to the likelihood that Israel will attack Iran as early as this month. This would likely lead to a wider war.
Israel's leaders would calculate that once the battle is joined, it will be politically untenable for you to give anything less than unstinting support to Israel, no matter how the war started, and that U.S. troops and weaponry would flow freely. Wider war could eventually result in destruction of the state of Israel.
This can be stopped, but only if you move quickly to pre-empt an Israeli attack by publicly condemning such a move before it happens.
We believe that comments by senior American officials, you included, reflect misplaced trust in Israeli Prime Minister [Benjamin] Netanyahu.
Please consider participating in a 24 hour Fast Against Torture in memory of all those illegally, unethically tortured around the world, including, most importantly, those tortured and waterboarded by the Bush-Cheney Administration.
By Roger Cuthbertson and Coleen Rowley
June 28, 2010 (first posted on TC Daily Planet)
Clouds hung over the St. Thomas School of Law graduation on May 8, 2010, in more ways than one. The University of St. Thomas Law School held its graduation ceremony at Orchestra Hall, a few blocks from their campus. So most of the celebrants parked at the campus and walked the few blocks to Orchestra Hall. They thus got an opportunity to pass by our anti-torture demonstration at the northwest corner of Orchestra Hall. Although many attending the graduation seemed intent on ignoring the signs, some seemed surprised and at least one graduate voiced his approval, saying he had recently completed a paper on torture.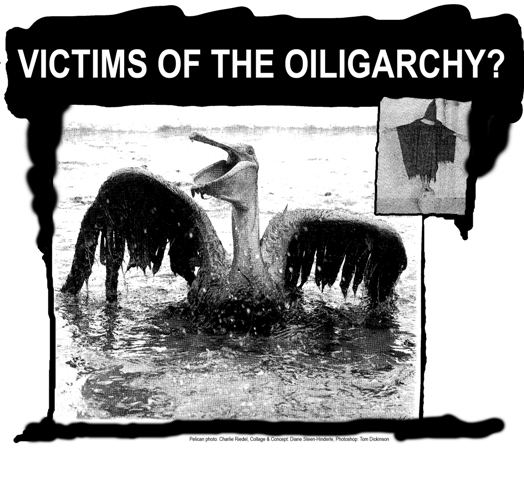 Maybe it was because June is "Torture Awareness Month", but when the wrenching image of an oil drenched pelican (taken by Associated Press Photographer Charlie Riedel) as a result of the BP oil spill appeared in our Star Tribune newspaper earlier this month, anti-torture activist Diane Steen-Hinderlie quickly spotted this connection and created the above collage.
By Robert Parry and Coleen Rowley
Almost four decades after Defense Department insider Daniel Ellsberg leaked the Pentagon Papers - thus exposing the lies that led the United States into the Vietnam War - another courageous "national security leaker" has stepped forward and now is facing retaliation similar to what the U.S. government tried to inflict on Ellsberg.
Army Intelligence Specialist Bradley Manning is alleged to have turned over a large volume of classified material about the Iraq and Afghanistan wars to Wikileaks.org, including the recently posted U.S. military video showing American helicopters gunning down two Reuters journalists and about 10 other Iraqi men in 2007. Two children were also injured.
By Tom Devine and Coleen Rowley (originally posted on Huffington)
Two events, both of which feature a public figure named 2005's most powerful woman in the world, may go down as the most bizarre of the year. The first took place last Saturday, in San Diego, where Condoleezza Rice was the Distinguished Speaker at the Institute of Scrap Recycling Industries Convention. That's a very long way from the world-changing press conferences she was commanding at the State Department 18 months ago. The second occasion is one of the weirdest concerts ever conceived, and may spark a firestorm of controversy. Its organizers, the Mann Center of Philadelphia, are marketing $95 seats with this enticement:
"The Queen of Soul Aretha Franklin pairs up with former Secretary of State Condoleezza Rice for an evening of classics and R-E-S-P-E-C-T. Ms. Rice will enchant us with selections from Mozart and more, and will feature Aretha on vocals... This extraordinary effort is sure to be a crowd pleaser. Don't miss this amazing duo for one night only!"