The U.S. government and its corporate masters lashed out (again) at young soldier Bradley Manning today, with court martial Judge Denise Lind handing down a sentence of 35 years. He's already been detained for 1,294 days, and tormented plenty, but none of his punishment can change the fact that the information Manning provided changed history forever.

Keeping Wikileaks founder Julian Assange under house arrest at Ecuador's embassy in London will not halt the changes already underway. Information wants to be free, and Assange already helped Manning free a lot of it; historians thank them both.

Similarly, hours of airport detention of journalist Laura Poitras or of David Miranda, working as a courier between Poirtras and his partner, journalist Glenn Greenwald, cannot change the fact that the information they shared from NSA leaker Edward Snowden has changed history.

And will continue to do so.

Governments may fulminate, threaten, and symbolically smash hard drives containing leaked material (do they even know how digital information works? one has to wonder). They may ground airplanes hoping the faint of heart will cower before them, but real journalists respond by becoming even more determined to see that the truth gets out.

"I believe the public has a right to know"
—Alexa O'Brien, journalist and unofficial civilian transcriber of the Bradley Manning trial

Here's something to know: NSA surveillance now in place can monitor about 75% of all Internet activity, as reported by mainstream news organization Reuters here.

Here's something else to know: the NSA is funded from the Pentagon budget, which gobbled up about 57% of the federal budget for 2013 and looks to do the same for 2014.

A place governments historically run into trouble is that they don't believe the public has a right to know, but they still insist that the public pay for what they can't know about. Like war crimes and dragnet spying, to give just two examples.

Tax revolt anyone?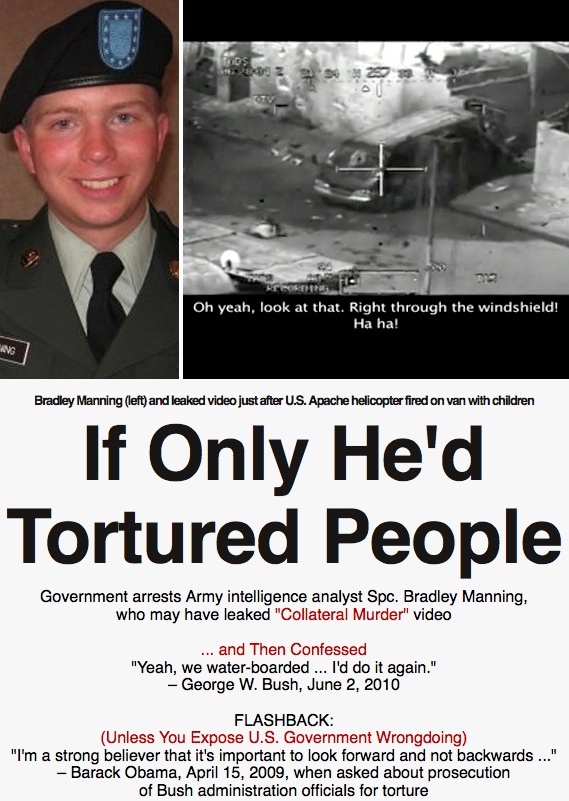 Source: http://beforeitsnews.com/contributor/upload/5385/images/manningmm.jpg

Update: Manning has since admitted that he leaked the Collateral Murder video of war crimes in Iraq.