You are herecontent / Cindy and 5 Others Arrested at CIA HQ
Cindy and 5 Others Arrested at CIA HQ
---
Cindy Sheehan's Soapbox

Dear Friend,

Today, Tour de Peace rode to the CIA HQ to join about 50 other people in a protest against the CIA drone program...and drones in general.

Of course, I initiated the first protest at the CIA against drones in January of 2010 and since then many more individuals and groups have become involved.

Today, we demanded a meeting with the director of the CIA John Brennan, or anyone elese, and were denied, so we simulated a drone strike and had a die-in. After the die-in, we tried to walk up to the HQ and six of us were stopped, detained, cited and then released. For such an evil place, it was actually a very civilized arrest.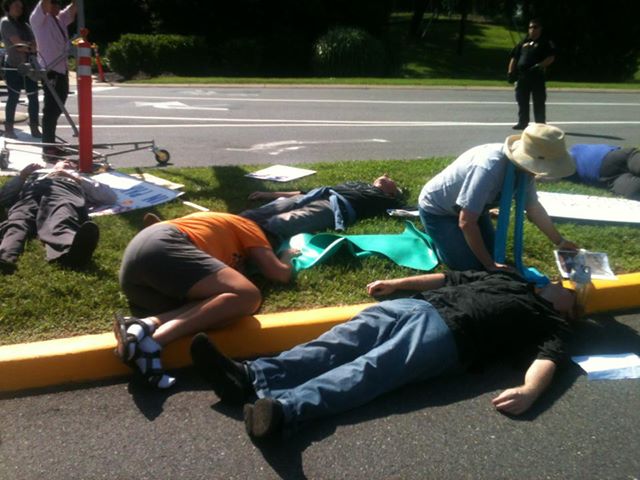 CINDY IN ORANGE SHIRT


The CIA Six will fight the charges to bring the use of that immoral practice into the Federal Court cyst-em even though it's hard for me to go back and forth from California to WashedUp, DeCeit for hearings and trials and such, it's a small sacrifice compared to the fact that The Empire that I live in regularly slaughters innocent (and they're all innocent, never any trials) people by the use of this dastardly technology.

Tour de Peace will be completing this leg of the journey (from California to DeCeit) on Wednesday, July 3rd, and the information for our action on that day is below. The journey will never end, though, as long as there is one person left who is struggling for peace, justice, and the environment: for our children and for the future!

Thanks for your support and encouragement. We couldn't have done it without you!

Love & Peace
Cindy Sheehan