Most Trusted Man in Afghanistan Accepting Donations for Mudslide Victims
---
Dr. Ramazan Bashardost, 2009 Afghan presidential candidate, scholar, and former Minister of Planning, is accepting donations for Afghan landslide victims. Dr. Bashardost's history of outspoken criticism of corruption from all sides in Afghanistan, and his integrity beyond reproach, has earned him the title 'most honest man in Afghanistan.' In an email to friends and supporters Dr. Bashardost has assured that 'every penny' of donations made to the designated account will reach the neediest victims directly.
Dr.. Bashardost resigned from his post in the Afghan government after his withering criticisms of non-governmental organizations in Afghanistan angered many powerful people in and around the Afghan government, who forced his resignation.
Dr. Bashardost is also a human rights activist, and has been nicknamed "the Gandhi of Afghanistan."
Hundreds are feared dead and thousands more displaced after last Friday's landslide in the remote north of Afghanistan. Survivors have been warned against returning home because of the danger of more slides.
Account information is below. One may also make out a check to Afghan Women's Fund, with "Bashardost" in the memo line, and mail to: Afghan Womens Fund, c/o Jean Athey, Treasurer, P.O. Box 1563, Olney, MD 20830.
Dr. Ramazan Bashardost, Wikipedia
Account:
Account Name: Bashardostan Foundation USD Account
Account Number: 0528102008680000
Account with: Afghanistan International Bank (AIB)
Swift Code: AFIBAFKA
Intermediate Bank: Standard Chartered Bank, New York, NY, USA
Swift Code: SCBLUS33XXX
Account Number: 3582026146001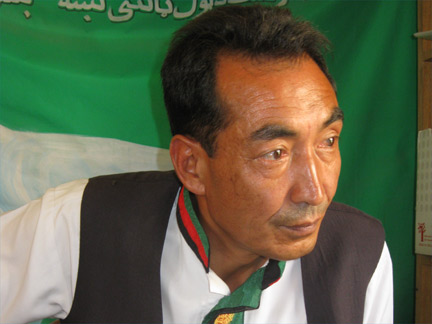 Dr. Bashardost
Interview of Dr. Bashardost by David Swanson of WarIsACrime.org