You are hereBlogs / coleen rowley's blog / Petition Launched to Investigate Betrayal of Nobel Peace Prize as Sec. Lundestad Speaks in Minneapolis March 3
Petition Launched to Investigate Betrayal of Nobel Peace Prize as Sec. Lundestad Speaks in Minneapolis March 3
---
-----------PRESS RELEASE------------
Since awarding US President Barack Obama the Nobel Peace Prize in 2009, an award that showed just how greatly the Norwegian parliamentarians' selection process had degenerated and departed from Alfred Nobel's will, Nobel Secretary Geir Lundestad has tried to minimize the serious nature of the charges against his selection committee by labeling Obama's and Henry Kissinger's "peace" prizes as merely "controversial". Lundestad also recently claimed he is "eager for this debate to end", however he has consistently refused to answer the hard questions that lie at the root of the current investigation of the Nobel Foundation.
According to peace researcher and author Fredrik Heffermehl:
The investigation was opened as a result of revealing truths in my book on the Nobel peace prize (http://www.nobelwill.org), not least some private diaries from a former chair laid bare how the committee is not in the least interested in what Nobel wanted, they have made it the Norwegian parliament´s prize for peace. Based on the book Swedish authorities last month decided to open an investigation into whether the Norwegian awarders take Nobel into consideration at all. In fact Nobel clearly specified HOW in his view the world could be freed from the deadly embrace of militarism. There is no basis for doubt about what Nobel actually intended. When Nobel wrote his will he entrusted the prize to the then very peace loving Norwegian parliamentarians, but today the purpose of Nobel´s will runs on right-on collision course with prevailing attitudes in Norwegian politics.
Petition: Investigate Betrayal of the Nobel Peace Prize (already signed by over 40 peace organizations)
Posted on 29 February 2012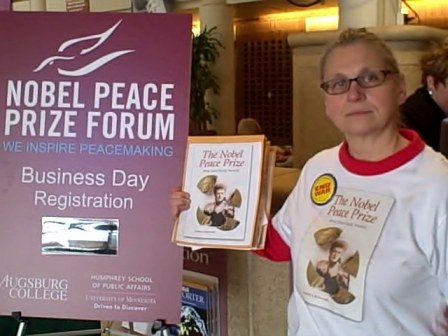 The Nobel Prize Foundation and other Nobel Prize Awarding Institutions should be thanked for their century-long efforts to educate and hopefully bring about more peace in the world. At the same time, however, these institutions must be made aware that their efforts are increasingly undermined, and deeply perverted by their growing departure from the original criteria set forth in Alfred Nobel's will for selecting the recipient of the Peace Prize. Such continual disregard of the original intent of the "Peace" Prize actually serves to enable the waging of war, fulfilling Orwell's prediction about how propaganda works in making people believe that "war is peace". Obviously the majority of officials and people involved with the various Nobel Organizations and Nobel Peace Forum sponsors are not intending to do this, to help the cause of war and militarism. They simply have not conducted the self examination necessary to realize how seriously off-track the Peace Prize has gone. Similarly it took a lot for Alfred Nobel himself to see the light, that his invention of dynamite would be used for violent wars and murder. The purpose of our on-line petition is to get more Nobel Peace Prize officials (including Nobel Peace Prize Forum partners and sponsors) to critically think!