Racist School Closings Are The Fruit Of Pentagon Greed
---
Infographic by Katie Falkenberg, CODEPINK Denver
Do school closings disproportionately affect children in African American communities?
Activists who filed three civil rights complaints with the federal government think so.
Lyndsey Layton reporting on May 13, 2014 for the Washington Post wrote:
...complaints, sent to the Education Department's Office for Civil Rights and the Justice Department, charge that students of color from Newark, Chicago and New Orleans have been disproportionately affected by school closures and charter-school expansions. Title VI of the Civil Rights Act prohibits discrimination in the use of federal funds by schools and other institutions [emphasis mine].
In Newark, 13 public schools have closed since 2009. In Chicago, 111 schools have closed since 2001. In New Orleans, all the traditional public schools except five have shut down since 2003. The District of Columbia has closed 39 traditional public schools since 2008. Those shuttered schools have been replaced by public charter schools, which are funded by taxpayers but are privately operated.

Since the federal government continues to squander more than half of its annual allowance from taxpayers on the Pentagon budget, subsidies to states and municipalities continue to decline. Rich communities make up the shortfall in their local school budget with local property tax revenues. Poor communities cannot do the same.

The fact that U.S. schools and neighborhoods continue to be segregated along color lines, while the income gap between people of color and whites is growing not shrinking, is another problem. So is the fact that charter schools are essentially union busting with a pretty face.

We need to close these failing schools which are disempowering students forced to attend them, say neoliberal Obama administration officials and city bosses like Rahm Emmanuel of Chicago. That's the essence of the No Child Left Behind Act which is often credited to George W. Bush but passed Congress with major bipartisan support.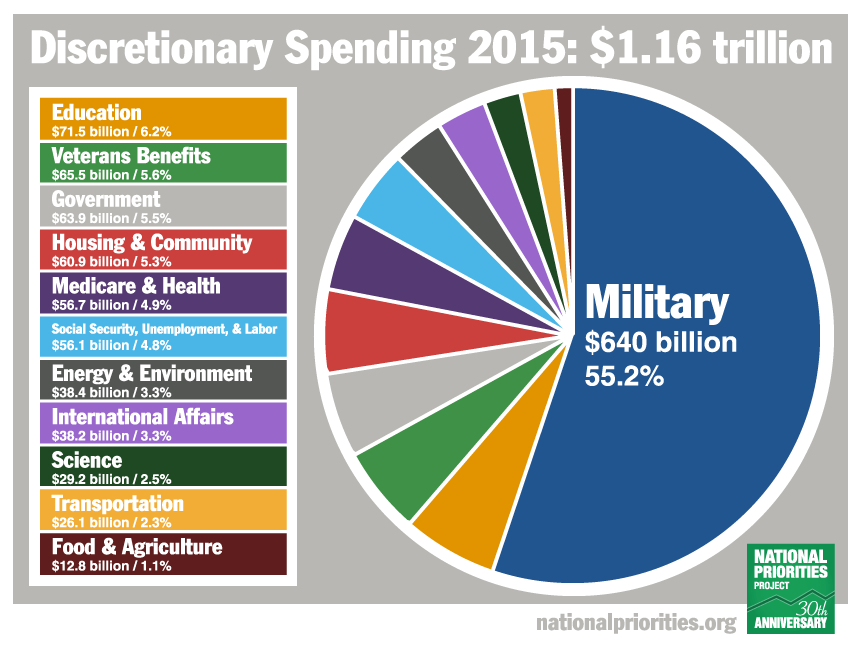 But that claim is an enormous lie, around $600.7 billion worth of falsehood if the Fiscal Year 2015 National "Defense" Authorization Act passes the Senate as handily as it passed the House.

In order to enact Title VI we need to defund the Pentagon and its parasites, and use the money to adequately fund schools in EVERY neighborhood.

Our continued failure to do so in the U.S. contains within it the seeds of our demise as a society.
Other wealthy countries have zoomed ahead of us for years in adequately feeding, housing and educating their youth. They can afford to do so because they do not overspend their tax revenues on "defense" contracts for super wealthy weapons manufacturers and surveillance corporations.