Renaissance Festival
---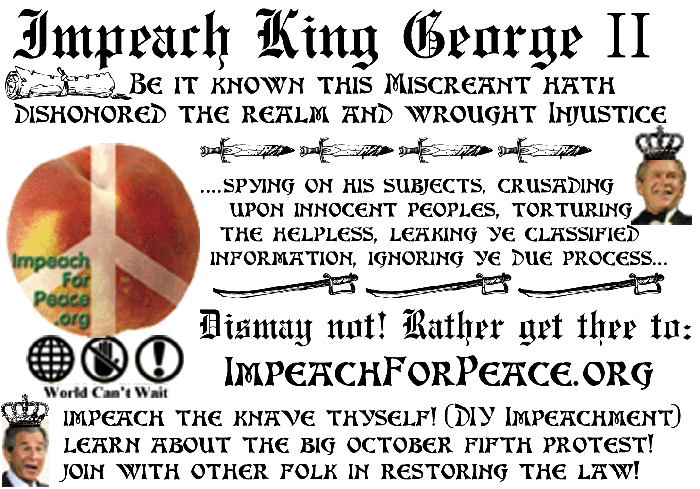 Renaissance Festival
We spent the evening before Labor Day (September 4th, 2006) preparing a special flier (shown above), putting Renaissance
costumes together, and fashioning signs. The next day we traveled
to the Minnesota Renaissance Festival and arrived somewhat later
than we had intended — at around noon. We were working on
a minimal amount of sleep, but we were determined to remind people
that impeachment remains timely and crucial to our democracy —
and have some fun in the process.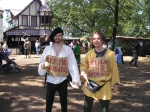 We both wore signs reading "Impeach King
George." One of us had a "Stop the Crusades" sign
and the other had a "Restoreth Due Process" sign. We
walked all over the Renfest many times, passing out our fliers
and calling out for Bush's impeachment in the most Elizabethan
manner we could muster. This meant speaking about the country
as if it were a monarchy and a kingdom, as well as using phrases
like "bloody hell" and "by jove" a lot. It
also meant using accents, which (due to our somewhat dubious acting
skills and general silliness) shifted between upper and lower
class English accents, morphing once in a while to Scottish and
Irish accents, and even changing once or twice (strangely) to
Australian accents.

Perhaps the highlight of our experience occurred
when we entered the Festival parade. Though we weren't scheduled
to be a part of it, we simply walked up and slipped in at the
end, hoping that no one would notice that we didn't belong. Almost
immediately after we stepped in line — and we still
aren't sure exactly why — the final installment of the parade
(two people carrying a picture of the backsides of two horses)
came up right behind us, ensuring that we looked entirely natural
as members of the parade. We got pretty bold as we walked through
a crowd of thousands of people, calling in loud voices for all
to hear for King George's impeachment on the grounds that he hath
violated the law, committed torture, spied on his people, initiated
crusades, and the like. No one asked us to leave, so we saw the
whole parade through!

As we went about our day, some Fest attendees
were not immediately aware of who we meant by King George II.
We occasionally had to clarify that our quarrel was with he and
not King Henry, the King of the Renaissance Festival. Most people
seemed to catch on pretty fast, though. As always, there was some
dissent. One Fair attendee decided our flier should be used as
toilet paper and graphically wiped himself with one before stuffing
it inside one of our shirts. Another engaged us in enthusiastic
debate for about ten minutes before being reluctantly dragged
away by a friend. And of course, some people ignored us.

Overall, however, we got an overwhelmingly positive
response from the vast majority of people. We gave away well over
a thousand fliers, and after we ran out, people kept asking for
more. Many people congratulated us for making the effort, many
cheered, and many others gave words of encouragement.

If you would like to demonstrate at the Renaissance
Festival yourself, click
here to find an easily printable flyer and other information.